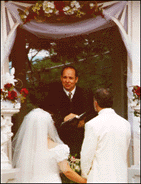 Helpful Hints for keeping the stress out of the process of creating a day to remember.

Quick Hints

1. If you want to be married you need a marriage license in the state where you want to be married. The laws for applying differ state to state.

2. If you want to be married and want the simplest way possible, you need a marriage license, 2 witnesses (in New Jersey - every state differs), an appointed time, and date (call us at 1-888-266-9462). We perform them in our town Gazebo or our home depending on the weather. Our fee for this "walk-in" service is $250 on a holiday, $200 week-ends and $175 Monday through Friday afternoon.

3. For those planning a wedding, first choose where, the date and exact time.

Officiants cannot check on availability if they don't know when. For those whose more informal approach allows them flexibility, call for the officiant first.

4. Many catering halls have a list of "preferred" officiants for your use. Because you will not know which caterers simply have a list composed of those officiants that have passed through their doors, those they feel comfortable working with, those who pay a referral fee to the catering hall, or those they truly believe perform a service you will love, do not hesitate to interview prospective officiants. Most officiants also want to be comfortable with those whom they choose to work. It is important that, on your wedding day, you feel at ease with your team of helpers -- officiant, catering staff, photographer, florist, musicians or DJ, etc ...

5. Do not pay cash unless you are receiving a receipt and contract showing the date, time and place of your wedding. We advise you to always work by contract to protect both you and your officiant.

6. Make sure your officiant knows the laws regarding filing your license after marriage. One couple we know witnessed an officiant telling their just married relatives to hold onto the white copies because he didn't have time to give it to the township. They did not know what to do with it, so they kept it. As a consequence they were not legally wed. The officiant must mail or walk in the two white copies within five days of the marriage ceremony in the township where the wedding took place. (Every state has different but similar rules).


More Helpful Hints About An Officiant

If you are concerned about officiant's being on time, or showing up on the date, make sure the contract you sign with him or her has this information stipulated If the officiant doesn't normally use a contract, write one and have them sign the contract with the start time of the ceremony, not the time you've invited guest if it differs, the date, place and town. If the town name is in several counties, write in the county. Have the officiant sign, you sign, date it and make sure all of you keep a copy for your records.

If you are having a ceremony away from the officiant's locale, send them exact directions and the phone number of the place. Whether it's someone's home or a catering hall, they need to find it easily.

Placing a deposit? It may sound redundant, but understand the conditions and get a receipt.

Worried about the officiant being legal? There are several thoughts on this. Because the state is separate from all religions, it has very little say over what makes a clergy person eligible.

A member of the clergy will belong to an organization that must be registered and/or incorporated. That will be listed, but not necessarily all its officiants.

When we have inquiries requesting a priest, we explain that a priest in good standing in The Roman Catholic Church cannot sign a marriage license outside the church doors. Some orthodox (Coptic) Priests are not so restricted. The can also be married. If someone states they are a priest and can sign the license at a catering hall, etc. it usually means they have been a priest, no longer are, and have picked up an ordination as a non-denominational minister through some organization, the most common being the Universal Life Church in California.


You could call the headquarters of the organization and verify the person. Most states have reciprocity for clergy. The strictest local rules are set in New York City. NYC requires anyone who performs a wedding to first register in the town hall with the Marriage Registrar, with all documents and proofs of who they are, what they do, and under what authority.

NYC will not permit clergy of some "religious organizations" (those not designated and recognized by the IRS as churches is one rational they apply) to perform weddings in NYC. One of the organizations not allowed is the Universal Life Church so please check the ordination if you are hiring an officiant in NYC by giving the name to the City Hall Registrar who can look it up for you. If you need governmental oversight, this is all we can suggest. However, if you have an officiant's signed contract signifying an intent to marry you, the legal ramifications of mis-representation could be so severe (recovery of cost of the reception and jail time being just two which come to mind) that it is extremely unlikely that, with a contract involved, the officiant is not legitimate.

Now minister is a funny term, it means to serve, it does not specify any religion. Universalist ministers, Unitarian Ministers, Buddhist Priests, Christian Ministers, Ethical Culture "Ministers and many more, all hold different beliefs. We offer you this opinion, you are entitled to a wedding that speaks of your beliefs, both in love and spirituality. A Rabbi in NYC runs a two year program in world religions. People graduating from this program become Ordained Ministers in world religions. This tells you how varied it can get.

What are reasonable rates for an officiant?

Mayors and Judges may not charge a fixed fee in New Jersey; they may ask for a donation. One mayor in a resort area of New Jersey expects a $600 donation for coming to perform a wedding outside the office doors, another asks $100. Most Judges and Mayors do not go to the wedding site, some will perform the ceremony during the working day.

Clergy – there are a few dozen clergy, and the number is increasing daily, who are willing to travel to the wedding sites, besides of course those that are coming because the couple are members of their congregation. Fees range from $200 (usually they are fairly new to the profession) to $1,000 or more. The average fee without long distance traveling involved is approximately $400 - $600. Long distance is generally one hour away or more. There are clergy who have called the Universal Life Church in California and received an ordination instantly by phone, bought clerical garb and charge $600 for their services claiming to have done "hundreds of weddings." There are officiants you don't meet except on the run, at a diner, or by phone. Ask to see references. We keep several books of references in our living room for couples to review. Some officiants won't work by contract, most will. It benefits the couple to have a signed contract showing the date, start time of ceremony (not the time you want guests to show up but the actual ceremony time), the name of the place, town and county. Years ago, doing a ceremony at the Olde Mill Inn in Basking Ridge, we had no music because the musician was sent to the Old Mill Inn in Spring Lake Heights! Always make sure the officiant has exact directions to the place, you do not want them getting lost.

Some officiants will allow you to decide what would be appropriate attire for them on your special day: formal, casual attire, clerical garb or theme clothing (Renaissance cape, etc.)

Some clergy build in rehearsal fees. Ceremonies conducted at a catering hall are led by the person in charge of your wedding at the site. The actual words of the ceremony are not spoken during the rehearsal. The extra fee for rehearsals is simply to have the officiant standing around for a few minutes. If the officiant has done may ceremonies they know their place and you can save the fee. If you want the officiant for the rehearsal just add the fee back in, it is usually about half the wedding fee, unless the rehearsal is on a week-end, then it might be more.

Ask to see references, not only to call one or two couples (who may be friends of the officiant) but to read thank you's. Although most letters of reference won't be dated, seeing albums filled with thank you's and references to the ceremony and how it was for the couple, or something along those lines will give you a feel for how long the officiant has been in practice.

Helpful Hints for the bride after she is married:
BACK TO TOP



Social Security has a rule that the bride must file an SS-5 form (a new application form showing change of name and /or marital status) within the fiscal year for tax purposes, (The SS-5 form should be filed, even if you are keeping your own name) along with an original proof of marriage. Social Security may take a while if you rely on the mail, so we always suggest you have another proof on hand. Therefore you may want to request two proofs of marriage. Check with Social Security first, see if you walk it in, will they just look at it and return it to you. Don't take a day off from work to go to the Motor Vehicle Bureau and any of the other place until you have an original marriage certificate in hand.

Change your name and address if applicable on the following:

1. Driver's License

2. Car Registration

3. Car Insurance

4. Health Insurance

5. Social Security Records

6. Voter Registration

7. Bank Accounts

8. Credit Cards

9. Will

10. With Your Employer

11. Professional Licenses

12. Passport

If you are moving after your wedding (within a month or two), or before the wedding but after you booked your officiant, be sure to give them your new address, phone numbers and any work numbers that may differ. It's important to be able to reach you.
Helpful Hints of the Laws Regarding the Marriage License


Always contact the Registrar of Vital Statistics in your town for the legal requirements for getting married.


Getting Married in New Jersey
BACK TO TOP



Each state has different rulings. Please check with your local registrar at any municipality in New York, The Clerk of the Orphans Court in any county in Pennsylvania and others. We have performed weddings in 8 states and have reciprocity throughout the nation. Getting married in New York? We had to registrar at the New York City Hall, bringing all our proofs. Not all are permitted, New York went to court against the Universal Life Church and won, voiding out many wedding contracts that had already taken place! If you are getting married in New York City, call City Hall, ask for the department that registers marriage licenses and give the name of the officiant you are considering. If they are not on the list of acceptable clergy, they need to go to City Hall and register, otherwise your marriage can be revoked by the city.


If your officiant is from another state have them contact the Registrar at City Hall in the town/city where the wedding is to take place. Each state has different rulings about out of state officiants. Most states are fairly lenient about reciprocity for clergy, however they want to make sure the officiant knows the rules and sends the marriage license to the appropriate address in the designated time allowed after the wedding has taken place.


New Jersey has designated three categories of officiants legally sanctioned to perform marriages in New Jersey.

▸ Judges - (of any level from Municipal ( ie. Traffic Court) through Superior (including Appellate) Court and United State District Judges. State Supreme Court and retired judges are not legally sanctioned to marry couples. Judges from another state are not eligible either. If you have any doubt ask the Registrar in your town's Department of Health, they have the state laws on file! If you have any doubt - ask!


▸ Mayors - (and others, depending on a municipality's organization, who serve a mayoral function, including, in some municipalities, deputy mayors, city council presidents, County clerks and the Governor). If you have any doubt - ask the Registrar of Vital Statistics in your town.


▸ Clergy - (Individuals designated by Ordination, appointment, or organizational designation, who may act on the behalf of an assigning body to serve in this broad category.) New Jersey allows a very liberal interpretation of this category, as is fitting, because of the Constitutional Mandate separating "Church" and "State".

Question: Can a Catholic Priest perform my ceremony at...the park, the hall, etc.?

Answer: They cannot step out of the church doors to perform their functions without a special dispensation. If someone claims they are a priest and can legally sign your license at the park, etc., they are either retired and picked up a minister ordination, or left the priesthood and picked up a minister ordination. If you have any doubt - ask!.


Question: Where can I find a "Justice of the Peace"?

Answer: In the movies and some states. It is not a category of legally acceptable people in NJ or NY. Notary Publics can perform weddings in Florida, not New Jersey, Pennsylvania, Connecticut or New York. It is best to call your Registrar at the town hall for the current laws.


New Jersey marital laws are quite old with two recent modification. The first is that blood tests are no longer required.

Here are the steps for your marriage license in New Jersey.

1. If the either the bride or groom lives in NJ, the couple applies in the town of either New Jersey resident, if neither is a resident of the state, they apply in the town where the marriage is taking place.

2. Call the Registrar of Vital Statistics in the town and make an appointment. Hours are generally between 8:30 a.m. and 4 p.m. NOTE* By New Jersey State Law a Registrar must be available during all the hours that the Municipal Building provides services..

3. Both the groom and bride must appear in person, (not necessarily at the same time) and each must be accompanied by the same witness.


4. The bride, groom and the witness bring two forms of identification. Both forms of ID must be government issued (from any government on the planet). One of the following must be a photo identification. If you don't have a photo ID call the registrar before you go and let them know. We suggest you follow the New Jersey Motor Vehicle Commission 6 point plan.

Proper identification is:

Photo Driver's License or Driver's License without photo

Passport current or expired

Birth Certificate Must have a 'raised seal' -copies are not acceptable

Social Security Card

Immigration Visa for staying in the United States


5. If this is a second (or more) marriage for either, if the cause of devolution was death, the death certificate, if legal annulment, the annulment order, or if divorce, bring the first page of the divorce decree showing, jurisdiction, docket number and date of filing. All previous spouses are listed on the application and on the license.


6. The license in New Jersey currently costs $28.

There is a legislatively mandated 72 hour waiting period required between application and issuance. In an emergency (illness, military leave, etc.), a Superior Court Judge (found in County Courthouses) can sign a waiver lifting the 72 hour waiting period. You apply for the License, seek out a Judge to grant the waiver, and then take that paper you receive from the Judge's office to the town to have the License issued immediately.


7. When you get your license, carefully review every line for errors and have them corrected at once. Erroneous information will require a change order and delay your receipt of your "Proof of Marriage Documents". The information on the license is used for many purposes, and like Birth and Death certificates, once the "Seal" is placed on the document, you live with that information as a permanent part of your record, SO MAKE SURE IT IS ACCURATE. This information is also given later to Social Security, so it must match what they already have on file. Show any errors to the registrar and have them give you a corrected license immediately.


8. You now have a four part carboned license to be wed. Keep it safe and DO NOT write on it or over it. On the day of the wedding the license is to be handed to the officiant performing the ceremony. We always suggest that even if the bride is very organized and the groom isn't nervous, give the license to someone else to hand to the officiant, preferably someone who will be there before the ceremony, along with all the envelopes of payments that need to be distributed. Any payment due the officiant, place in the envelope with the license. The bride and groom are best advised to leave the business end of their wedding to someone else on that day and keep the love front and center.


9. After the celebrant and any two adults you choose (18 years or older) sign the license (sometimes it is the Best Man & Maid of Honor ; it can also be any other 2 people you wish to include that day), you are supposed to receive the pink copy of the license.


10. Take the pink copy on your honeymoon, it is your only proof that you are married. The pink copy has no legal force. It's usual use is as a piece of memorabilia for filing in a draw and waiting for your real "proofs of marriage certificates."


11. The marriage license must be filed by the officiant to the town where the wedding takes place within 5 days of the ceremony. Make sure your officiant will take care of this. The officiant holds onto the blue copy and sends in the 2 white copies.


12. Now for your proof of marriage. For the bride to take on the groom's last name (with or without her own last name) on her drivers license, bank, insurance, and Social Security (we'll go into that in a moment), she needs the "Proof of Marriage" that is obtained from the registrar of town where the wedding took place, or much later, if you are not in a hurry, from the State government in Trenton. Each town has a separate and different fee for each original and requires a "Request for Marriage Certificates" be filled out.


13. An Executive Order was issued in New Jersey on April of 2002. Only the Bride and/or Groom or some defined close relative (parent or child) may apply in person or by mail for their Certified Proof(s) of Marriage. You need to obtain the application form from the township where the wedding has taken place. Again, you call the Registrar of Vital Statistics. You cannot obtain the proof until after the marriage license is filed by the officiant who conducted your wedding. If you are local to the town, one of you can walk in with and show the pink copy and a photo identification just as you first did when going for your marriage license.


Getting Married In New York State
BACK TO TOP



A couple who intends to be married in New York State must apply in person for a marriage license to any town or city clerk in the state. The bride and groom must both be present. The marriage license is issued immediately, however, the marriage may not take place within 24 hours from the exact time that the license was issued.

When both applicants are 16 years of age or older, the 24 hour waiting period may be waived by an order of a justice of the Supreme Court or a judge of the County Court of the county in which either the bride or groom resides.

A New York State license is valid for 60 days, beginning the day after it is issued.

If the marriage license is issued by a town or city clerk in New York state outside of New York City, it costs $25. It is is issued by the City Clerk of the City of New York, it costs $30. The fee in either case includes the issuance of a Certificate of Marriage Registration. This certificate is automatically sent by the issuing clerk to the applicants within 15 days after the completed license is returned by the officiant who performs the marriage ceremony. It serves as notice that a record of the marriage is on file. Couples who do not receive a Certificate of Marriage Registration within four weeks of the wedding should contact the town or city clerk who issued the license.


Proof of Identity is required when applying for the marriage license. It may be in the form of a driver's license, DMV-issued non-driver's license, passport, birth certificate and/or social security card. One of two proofs must show photo ID.


If the bride or groom has been previously married, proof of a Decree of Divorce, Certificate of Dissolution of Marriage or Death Certificate of deceased spouse, must be presented when applying for the marriage license.


Who May Perform A Marriage Ceremony In NYS:

The mayor of a city or village; one who performs a mayoral duty if the municipality does not have a mayor, county clerks, the city clerk or one of the deputy city clerks of a city of more than one million inhabitants; a marriage officer appointed by the town or village board or the city common council; a justice or judge of the following courts: the U.S. Court of Appeals for the Second Circuit, the U.S. District Courts for the Northern, Southern, Eastern or Western Districts of New York, the NYS Court of Appeals, the Appellate Division of the NYS Supreme court, the NYS Supreme Court, the Court of Claims, the Family Court, a Surrogates' Court, the Civil and Criminal Courts of New York City (including Housing Judges of the Civil Court) and other courts of record; a village, town or county justice; a member of the clergy or minister who has been officially ordained and granted authority to perform marriage ceremonies from a governing church body in accordance with the rules and regulations of the church body; a member of the clergy or minister who is not authorized by a governing church body but who has been chosen by a spiritual group to preside over their spiritual affairs; other officiants as specified by Section 11 of the Domestic Relations Law.


Ship captains are not authorized to perform marriage ceremonies in New York State.

Special Rules for New York City

The person performing the ceremony must be registered with the City of New York in order to perform a ceremony within the New York City limits. The officiant does not have to be a resident of New York State.

Where do you get copies of a New York marriage certificate?

For copies of marriage licenses issued anywhere in New York State except New York City, a certified copy of the marriage record may be obtained from the office of the town or city clerk who issued the license, or from the New York State Department of Health. The fee is $10 if you obtain a certified copy from the town or city clerk who issued the license. If applying to the New York State Department of Health, the fee $5. For a certified copy, write to:

Certification Unit

Vital Records Section

New York State Department of Health

P.O. Box 2602

Albany, New York 12220-2602


For marriage licenses issued in New York City you must apply to the borough office of the City Clerk of New York in the borough where the license was issued. The fee is $15 per copy for any additional copies needed with the first proof provided as part of the license process for free. Write to the City Clerk of New York:


Manhattan: Municipal Building (south side), 1 Centre Street, 2nd floor, NY 10007

Contact info: Manhattan City Clerk of New York 8:30AM - 4:00PM 212 669-2400


Bronx: 851 Grand Concourse, 161st Street, Ground Floor, Bronx 10457

Contact info: Bronx City Clerk 9:00AM - 4:00PM 718-590-5307


Brooklyn: Municipal Building, 210 Joralemon Street, Room 205, Brooklyn 11201

Contact info: Brooklyn City Clerk 9:00AM - 4:00PM 718-802-3585


Queens: 120-55 Queens Boulevard, Kew Gardens 11424

Contact info: Queens City Clerk 8:30AM - 4:00PM 718-286-2829


Staten Island Office of the City Clerk of New York

Borough Hall, 10 Richmond Terrace, Rm 311, SI 10301

Contact info: Staten Island City Clerk 8:30AM - 4:00PM 718 - 816-2290

Ask to see the papers that give the officiant the legal right to perform your wedding. Most of us saw the news this year when a "Rabbi Heller" was found to have been illegally performing weddings since 1987 in New York and New Jersey. As of 1987 he was no longer a Rabbi. New York State passed a special law for those couples, allowing their marriages to remain legally accepted. Legal papers are usually from the religious institution, the state of New Jersey has only one way to verify, the Department of Records for non profit organizations.


Another method of verifying the legal standings of an officiant is call the Registrar or Deputy Registrar in the town where the officiant lives and ask if they know of their work.


How can you judge who would be perfect for you?

Meet with a few potential officiants before choosing. Ask questions, notice who is willing to educate you and who you feel comfortable with. Remember on your wedding day you want someone who not only will perform a beautiful and meaningful ceremony, take care of the legalities for the marriage license properly, but also be a support system helping you enjoy the most important part of the day, your announcement to the world that this is forever!


For Commitment Celebrations: While most states do not issue marriage licenses, in the northeast, Vermont does! Your celebration of your marriage can still be performed locally in front of your family and friends and you may make arrangements to be LEGALLY WED in Vermont before or after the local celebration.

Click here for information about

Dick Weber, Nancy Weber,
Erin MacKenzie or Ken Mackenzie

Click here for Helpful Hints for your joyous occassion

To order your free Wedding Brochure guide click here

email: LIGHTWING@aol.com
or ozwizard@optonline.net

Nancy & Dick Weber & Associates,

P.O. Box 1132, Denville, NJ 07834
Ph: 888-467-6572 Fx: 973-627-4285